Getting to Karlsruhe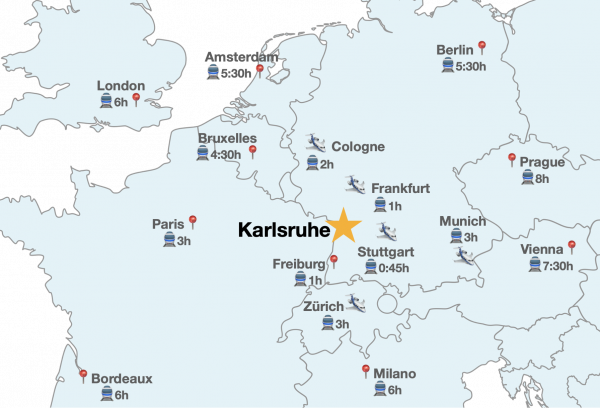 Arrival by Train
The train is the most convenient way to reach Karlsruhe from many locations in Europe. Connections can be checked on the Deutsche Bahn webpage where also tickets can be purchased. Karlsruhe's main train station (Hauptbahnhof, Hbf) is centrally located, and within 25 minutes walking distance or 10 minutes tram ride to the venues. Many hotels are within easy walking distance, and there are taxis in front of the station.
Arrival by Air
The best-connected major hub is Frankfurt International Airport (FRA) with an excellent railway connection that brings you from the airport to the center of Karlsruhe in just a little more than one hour. Upon arrival at FRA, follow the signs to the long-distance train station (Fernbahnhof). We recommend booking tickets in advance by selecting "Frankfurt(M) Flughafen Fernbf" as Start and "Karlsruhe Hbf" as Destination. A one-way trip should cost approximately 38 Euro (excl. seat reservation).
The closest commercial airport is Karlsruhe / Baden-Baden airport, served by a limited number of airlines. As public transport connections are not as good as from Frankfurt airport, FRA is most often the better option.
Arrival by Car
Parking within the city center is rather limited and expensive. If you should decide to bring your car, you may wish to pre-book a parking space at your hotel.
Transport in Karlsruhe
A public transport ticket (Sunday to Wednesday) is included in the conference fee. Google Maps is mostly accurate for public walking and public transport options, the KVV local transportation website/app is sometimes more up to date and can also be used to purchase tickets. Alternatively, you can buy tickets at the vending machines at the major tram stops (cash and cards accepted) before boarding the tram.